Social Events at the Troja Château
Social events can be organised both inside the château and in the château's gardens, or in any combination of interior and exterior spaces. The hire charges are based on a system of hourly costs and the final choice of the space will be decided depending on the type of the event and the client's wishes.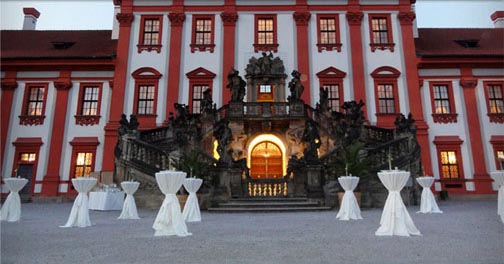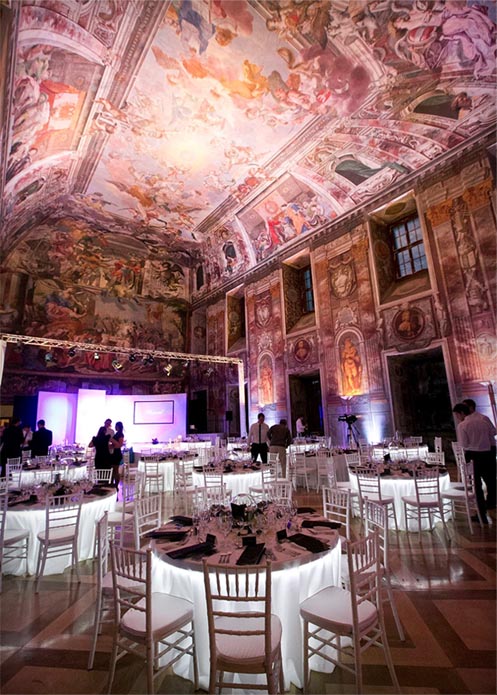 The Imperial Hall captures the eye of the visitors with its large-scale historical scenes and painted decoration celebrating the former ruling Habsburg family. The painting decorations are the creation of the painters Abraham and Isaac Godyn dating from the 17th century and depict scenes from the history of the Habsburg dynasty, concluding with a tribute to the then Emperor Leopold I. The paintings use the trompe-l'œil technique to create an illusion of extended architectural space.
The Hall can be accessed directly from the perfectly landscaped French garden by way of a two-winged Baroque staircase decorated with sculptures of Olympian gods and goddesses.
Due to its size of 280 m2 the maximum capacity of the hall is limited to 200 guests.
virtual tour of the Imperial Hall

Smaller-scale social events can also be held in the former stables, located in the northern courtyard, with preserved original painting decoration and marble flooring.
The size of the stables is 260 m2 with the maximum capacity of 180 guests.
virtual tour of the stables

The exquisite château gardens offer a fine view of the château and its surroundings, the vineyards with the chapel of St Clara, the Vltava River and the Imperial Island (Císařský ostrov). The gardens also include a two-winged Baroque staircase decorated with scenes from the Gigantomachy depicting Olympian gods triumphing over the Titans, several smaller fountains, as well as a central fountain with sculptures of Triton.
These spaces may be used for welcome drinks and garden parties with the capacity of up to 500 guests.

Concerts at the Troja Château

Troja Château offers two spaces suitable for organising concerts, the Imperial Hall and its French Gardens. These exquisite spaces together with music are guaranteed to provide a highly memorable experience to our clients.

For further information and clarifications please contact Miroslav Koláček,
tel.: +420 725 818 722, email: kolacek@ghmp.cz